Sally's Apizza is rapidly expanding throughout the Northeast with our elevated Bar Restaurant experience featuring our world famous New Haven style apizza, Italian entrees, pastas, salads, a full bar with craft cocktails, and more. And yes, the pictures of Sal and Flo are still crooked.
Founded by Salvatore "Sally" Consiglio in 1938, Sally's Apizza hand-crafts authentic New Haven pizza using Sally's original recipes and techniques.
Famous for our distinctive tomato sauce and chewy, crispy crust with an iconic char, Sally's is loved by pizza fans from around the world.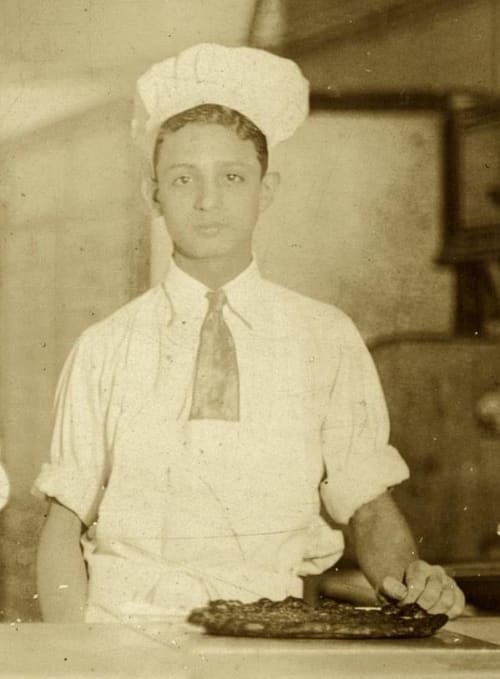 1915 – Salvatore "Sally" Consiglio is born in New Haven, CT.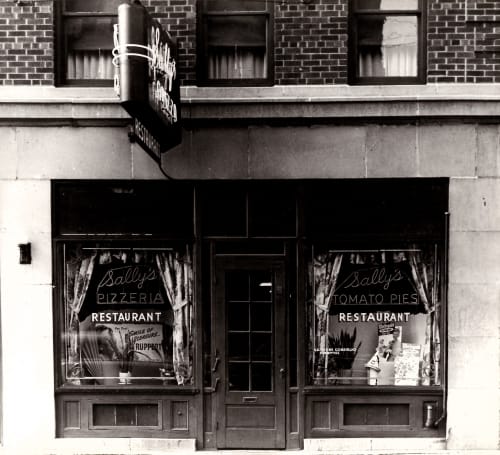 1938 – Sally's mother Filomena purchases a restaurant with a bread oven on Wooster Street and tasks Sally to operate it as a pizzeria, Sally's Apizza.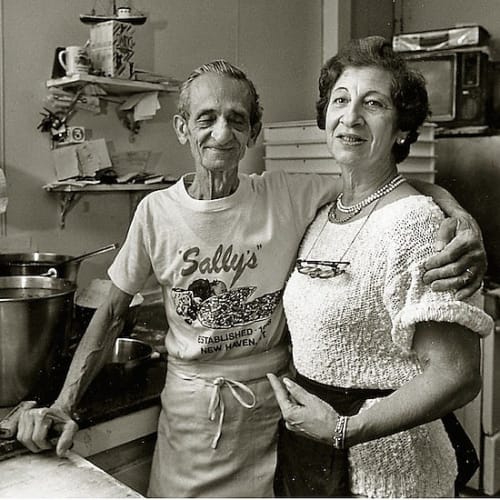 1939 – Sally marries Flora "Flo" Cozzi.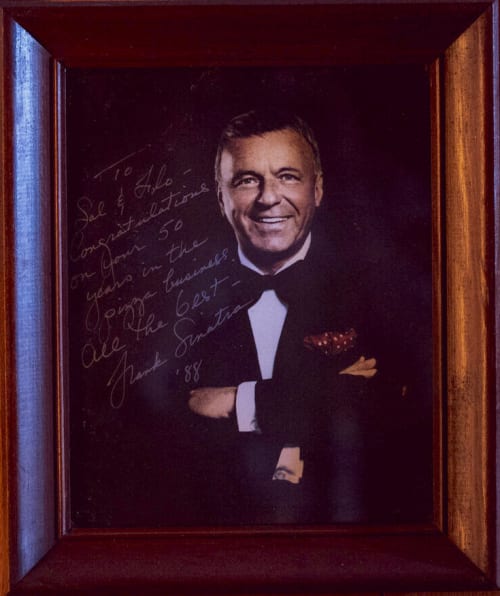 1941 – Frank Sinatra falls in love with Sally's.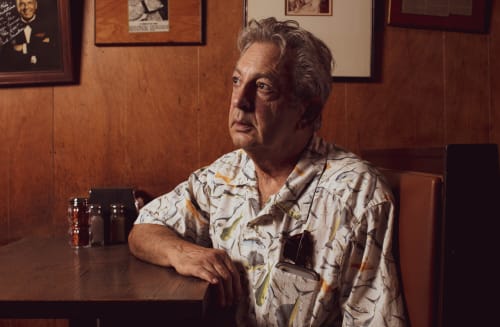 1942 – Sal & Flo have their first son, Robert "Bobby" Consiglio.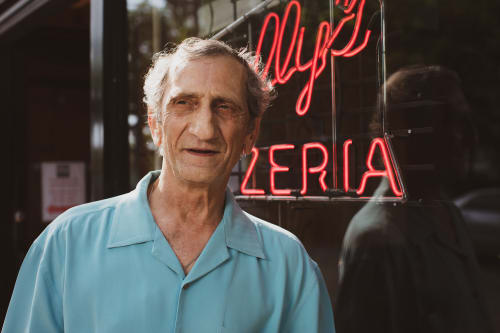 1945 – Sal & Flo have their second son, Richard "Ricky" Consiglio.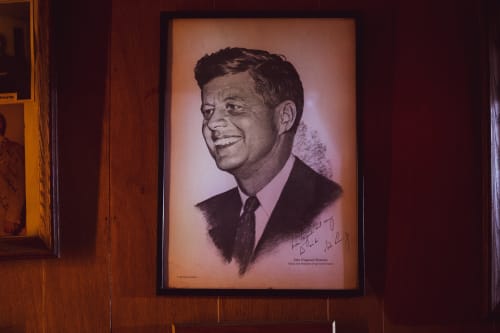 1960 – John F. Kennedy visits Sally's for the first time.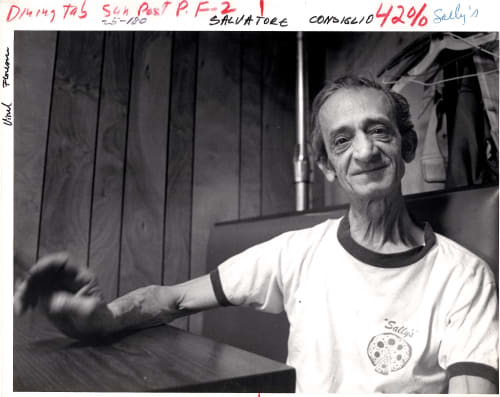 1989 – Sally passes away. Flo, Ricky and Bobby run the pizzeria.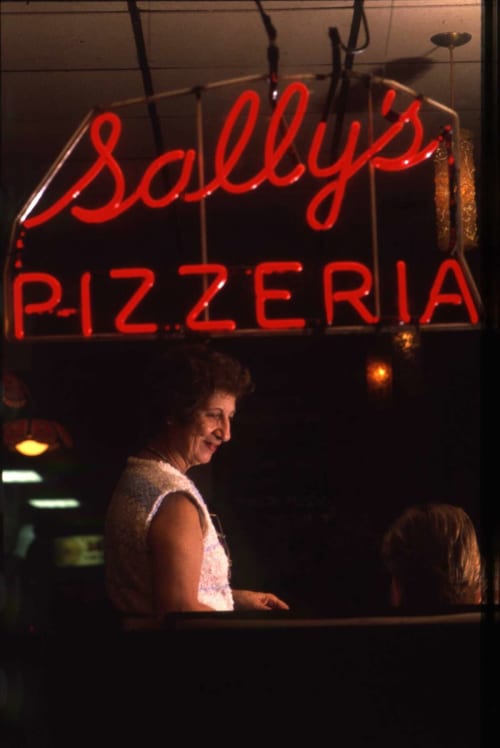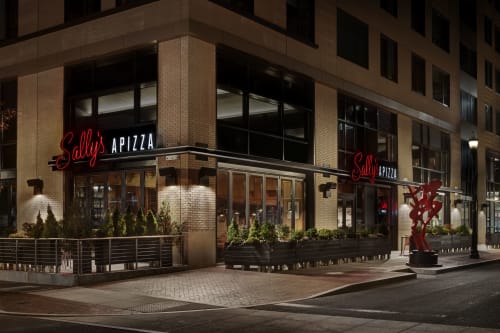 2021 – Sally's opens its first ever new location in Stamford, CT.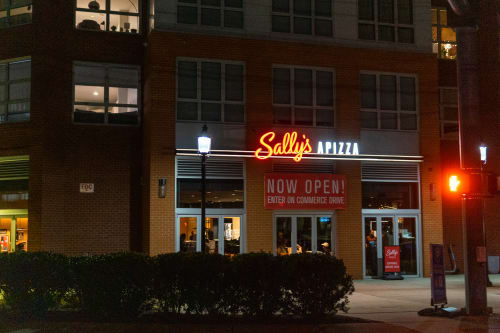 2022 – Sally's opens its second ever new location in Fairfield, CT.
Questions?
We've got answers.
Do you have any gluten-free options?

Our pizza dough contains flour. That's how Sal did it. There are menu items that contain no added gluten, however we pat our dough in an open kitchen and cannot guarantee there is no cross-contamination. If you've ever been to Sally's, you know what we're talking about.

What is New Haven style apizza?

Handmade, coal-fired, sauce forward pizza on a thin, crispy, and chewy crust – charred, not burnt. It's pronounced "ah-beetz." Get it right.

Can I bring my pets?

Due to health code restrictions, we cannot allow non-service animals into our restaurants. However, furry friends are always welcome on our outdoor patios.

Do you have any dairy-free pizza?

The only dairy-free pizza is our sauce pie, hold the parm.

Do you take reservations?

Yes! But only at our new locations. New Haven will remain first come, first serve for dine-in.