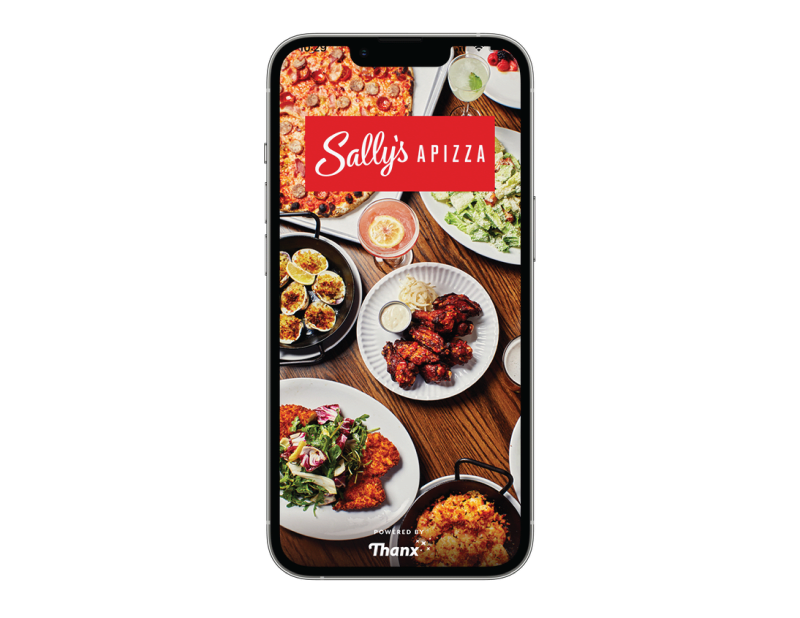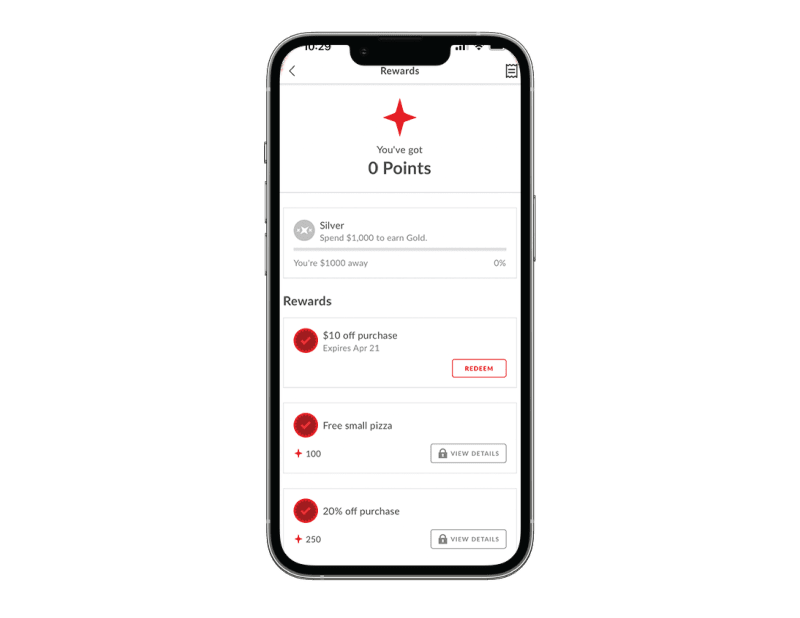 Automatically receive $10 just for signing up! You can spend it on food and drinks, online and in-stores.
Spend $100 and receive a free small pizza on your next order.
The more you spend, the more rewards you'll receive. Spend $250 and receive 20% off your next order.
Members have the ability to earn extra points as they level up through Silver, Gold, and Black tiers.
Exclusive Access to Rewards
You never know when a reward might just drop into your account. Merch, perks, gifts, the possibilities are endless!
F.A.Q.
Is there a difference between ordering from the Sally's app and website as opposed to third party services?

If you order direct from our app or website, you will get the best prices guaranteed. You can save money and avoid service and delivery fees by ordering directly through us. If you are a member of our loyalty program, you can also earn rewards on each purchase by ordering through our website and app rather than third party services.

Does my tier status expire?

Once you reach a tier, you will maintain status for 365 days.

Do my points expire?

Your tier progress or points will expire at the end of the calendar year if you don't reach the next tier by December 31.

Where can I redeem my rewards?

You can redeem your rewards through ordering online, our mobile app, and dine-in. Rewards cannot be redeemed on third party ordering sites.

Which locations participate in the rewards program?

Points can be earned and are redeemable for purchases of food and beverage online or at any Sally's location.

Can I participate in the rewards program if I only dine-in?

You can absolutely engage with Sally's rewards as a dine-in only guest. You do, however, need to download the Sally's Apizza app, sign-up for the program and link a credit card for loyalty to earn loyalty progress for each dine-in purchase you make. If you decide to link your card, our system will automatically recognize you as a loyalty member just for swiping your card during your dine-in visit. If you don't want to link your credit card, alternatively, you can upload your dine-in receipts via the receipt upload tool on the app to earn progress towards loyalty tiers. Lastly, there is a 'in-store' redemption option when you are ready to redeem your rewards.

Do my rewards expire?

Yes. The signup reward expires after 30 days of earning it. The birthday reward expires 30 days after earning it. Some rewards will be available for a limited time, which will be stated on the reward.

Can I redeem multiple rewards at once?

Our current policy limits you to one reward redemption per purchase.

Do you store my credit card information?

No. We neither store nor see your credit card information. When you link your card for in-store transactions, your card number is encrypted and sent directly from your phone to Visa, MasterCard, or AmEx. They mark your card as enrolled and send us a notification when you use it to make a purchase at a Sally's location. When you make a digital purchase, your card information is stored in a payment vault for re-use on future orders. It is stored in a manner – tokenized and encrypted – that is unreadable to Thanx – we do not see or know your card number. When you use that card to make purchases, your card is sent securely from that vault to Sally's ordering platform for processing.

Do you share my personal information?

No. We don't share any information stored in the app with anyone.

Who powers your loyalty program and mobile app?

Our loyalty program and mobile app is powered by Thanx. View the Thanx Terms. (Thanx to provide link to a Sally's specific terms and conditions)